WELCOME TO OUR WEB SITE
Whitehaven Cage Bird Society was formed over 127 years ago and is still going strong!
We have about 80 Members and a Committee of 12
MEETINGS
We hold our Monthly Meetings on the First Tuesday of the month in Mirehouse Labour Club
Where we make arrangements for our Shows and General Discussions about the various birds we keep.
ALL MEMBERS ARE WELCOME TO ATTEND
We run a Monthly Draw and this is our biggest income and helps in no small way for us to survive financially.
SHOWS
THE SOCIETY HOLDS THREE SHOWS A YEAR, ALL ON SUNDAYS
THE MEMBERS SHOW
Held in January, usually about the 3rd Sunday - attracts betweeen 80 - 150 Exhibits and is judged by other Local Society's Members
ENTRIES ARE TAKEN ON THE DAY AND THE SHOW LASTS A COUPLE OF HOURS
YOUNG STOCK SHOW
The Young Stock Show or as it's usually called "The Nest Feather Show" is predominantly for Birds just bred the few months before and is held first Sunday in July.
Classes and Specials are provided for old Birds, so if you have experienced a poor Breeding Season - you can still exhibit if you want to and it brings revenue into the Club as well as increasing the Entry plus there are more Exhibits for Visitors to view.
OPEN SHOW

The Open Show is held on the 4th Sunday in October - with Entries closing the Tuesday before.
Exhibits are accepted on the Saturday night and Sunday morning.
Fanciers come from all over the County and as far as the North East of England & Scotland.
The Entry is around the 700 mark!
Fanciers regularly travel long distances and we receive them very favourably.
COMMITTEE
Awaiting details . . . . .

COMMENTS
Our Ladies Section does a marvellous job providing Refreshments and run Raffles and a Tombola.
This all helps pay for the running of the Shows and to provide the excellent cash and Tropy/Rosettes Specials we put on each year!
Bryan Barwise Secretary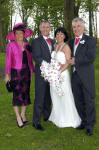 Click pic to enlarge

Email: b-barwise@sky.com
Tel: 01946 63812
---