BREEDS & THEIR NEEDS
HECKS GRASS FINCHES
Australian Grass Finch
Hardy & suitable for Novice Bird-Keeper










2 Cock Hecks with Bicheno (Owl Finch)
Hecks Grassfinch
They are a hardy bird and would suit beginners to the bird-keeping hobby.

They are peaceful but very inquisitive birds.

they have distinctive red beaks and black bibs

average lifespan 5-7 years.
Diet
Feed them a foreign finch seed mix and occasionally spray millet.

They relish broccoli, cress, apple and small amounts of lettuce.

Always supply cuttlefish bone, mineralised grit or oystershell grit, especially in breeding season.
Courtship display
Hecks ' head bob ' to greet mates and flock members, which is quite comical to watch.

During courtship display the cock bird bobs his head while one or both feet leave the perch then starts
to sing while standing in an erect position facing the hen.
Housing
They can be kept in cages or indoor flights

Thrive better in aviary with indoor flight.
Compatability
Sexing
Sometimes sexing can be difficult visually.

Generally the cock birds' bib is larger and the black bar across the flanks is broader.

To be 100% sure it is best to go by the cocks' song. 2 Cock Hecks (Red Beaks) + 2 Bengalese
The different Mutations: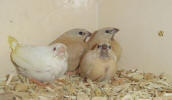 A Nest of young Fawn Hecks + unusual 5(Red-eyed) Albino Feeding in preparation for Breeding
I feed breeding pair Egg Food / mealworms prior to breeding.

as this ups the Protein Levels needed prior to bringing the birds into Breeding condition.
I often mix my eggfood with cous cous.


feed eggfood and soaked seed for young.
Breeding
When breeding Hecks provide a finch nest box or domed nest basket

Have also experienced a pair using a canary nest basket lined with a nest felt .

The cock bird used coconut fibre and weaved an elaborate domed top leaving a small entrance hole.


I tend to breed Hecks from April to September ( other people may differ )

They can breed from 10 months
INCUBATION
They do not start to incubate the eggs until the clutch is complete.

Normally 4 – 6 eggs in a clutch.

Incubation 12 - 14 days.

Parents take turns incubating or both occupy the nest together.

Both parents feed the young.


At 9 – 10 days of age the parents no longer brood the chicks during the day.
AGE the CHICKS FLEDGE
The young normally fledge after 21 days.

Providing they are feeding themselves efficiently they may be removed from parents at 5 – 6 weeks of age.
CLOSE RINGING
Approx. age to Close Ring - 10days

Split rings best put on just before the chicks leave the nest when they are fully feathered

closed and split aluminium Size C

plastic split size XF

^Top